From the Lands of Condado de Huelva
The vineyard in the area protected by the PDO spreads across flat or slightly wavy lands. In general, the soil is neutral or slightly basic, loamy and of average fertility with zones of unbeatable quality for vine growing.
As for the climate, the Condado de Huelva offers the ideal conditions for vine growing: mild winters and springs with long, warm summers and a clearly Atlantic influence with average annual temperatures of 18ºC and a relative humidity of 60 to 80%.
Protected white, fortified, liqueur and sweet liqueur wines are produced with the following grape varieties: Zalema, Palomino Fino, Listán del Condado, Garrido Fino, Muscat of Alexandria, Muscat à Petits Grains, Pedro Ximénez, Colombard, Sauvignon Blanc, Verdejo and Chardonnay.
And protectedred and rosé wines are produced with the following grape varieties: Syrah, Tempranillo, Cabernet Sauvignon, Cabernet Franc and Merlot.
The first of these, Zalema, is a vinifera grape that predominates in the local vineyards, accounting for 86% of the total planted.
With respect to the plantation systems used, they are predominantly low-bodied with a maximum density of 2,500 plants per hectare. On wire trellis-shaped plantations, the maximum authorized is 4,000 plants per hectare. The minimum is 1,950 plants per hectare for both formations. As concerns pruning, the traditional method used in Condado de Huelva is "goblet pruning" yet the system used is normally spur and cane pruning for the Palomino Fino and Listán de Condado varieties.
Agin and Production
PDO Condado de Huelva
The production area of the wines protected by the Designation of Origin "Condado de Huelva" is comprised of lands within the municipal borders of the Condado de Huelva.

Aging wineries and exportation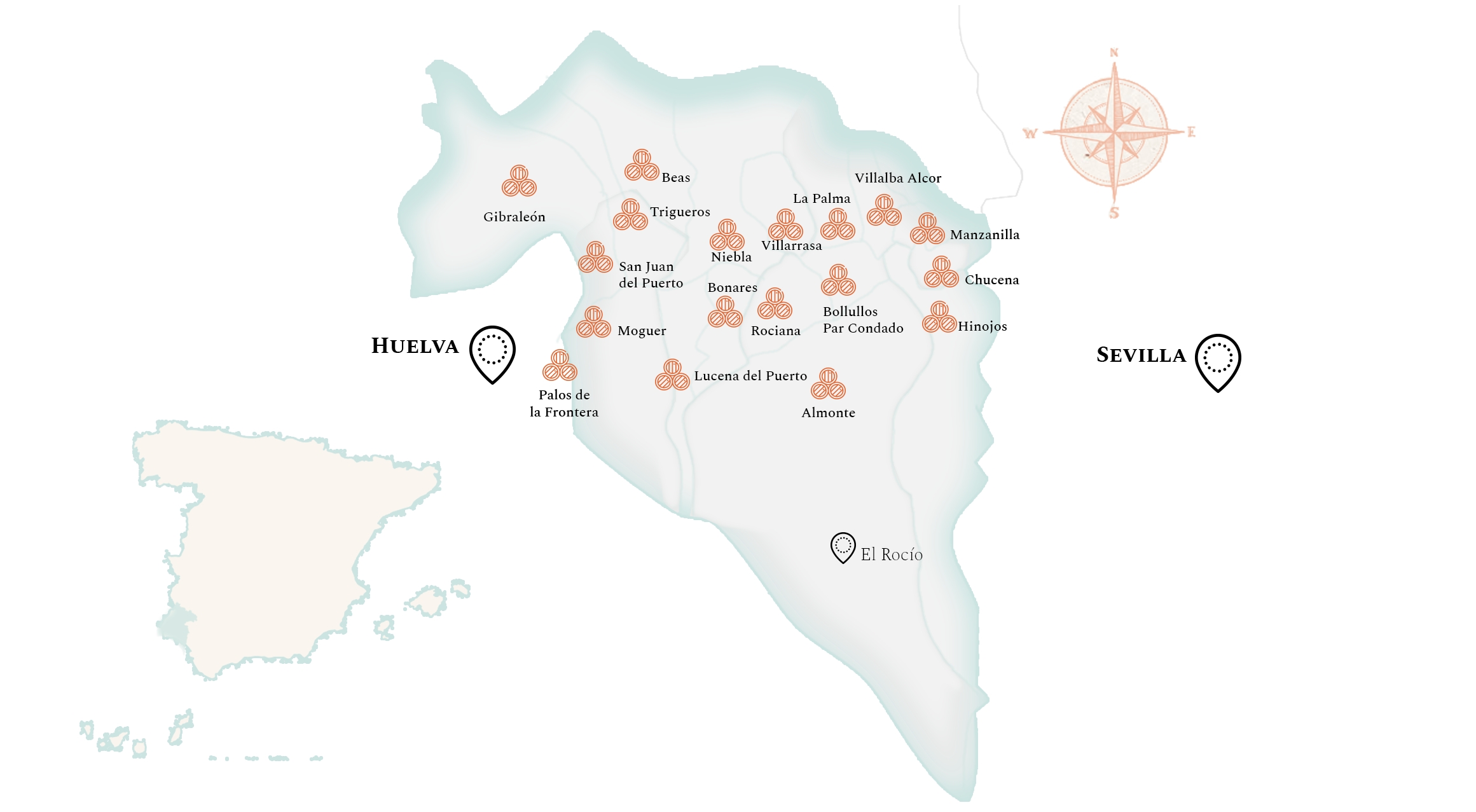 Homegrown
Protected Designation of Origin
European Union Aid
The Designations of Origin Huelva and Vino Naranja del Condado de Huelva Regulatory Board has received aid from the European Union through the European Agricultural Fund for Rural Development to promote its protected wines and vinegar.